Argentina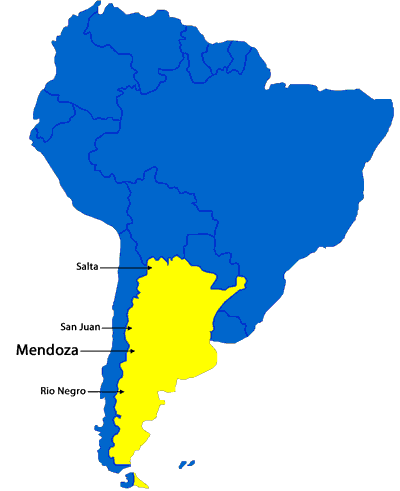 Overview
A collection of my Essays on Argentina
The world of grapes vines is all about finding the ideal temperature. Not too northernly, nor too southerly. Not too hot, not too cool. In northern Argentina heat is a problem, and unlike neighboring Chile, there are no cooling ocean breezes. Instead altitude is the key.
At first glance on a map Chile's wine region and Argentina's look deceptively close. Further inspection reveals a 20,000 foot mountain range between them, which pretty well cancels out the effect of the otherwise close Pacific Ocean.
While Argentina has now become a player in the world wine market, only a decade ago this seemed unlikely. Modern techniques, more vineyards planted at higher elevations (in some cases above 4,000 feet), and an influx in interest and talent from abroad have all helped to reshape this South American wine region.
The soil here comes from some of the youngest (and therefore highest) mountains in the world. It contains high amounts of sand, and the air is dried by the high altitude. For these reasons the vines of Argentina are very resistant to disease and pests, even the dreaded phylloxera.
Even though they have been producing wines for generations, Argentina has yet to find the perfect marriage of grape variety, soil and micro climate that Europe has long had and the rest of the New World has largely developed. With no rhyme or reason almost every popular grape variety is planted throughout the country, but by far and away Argentina has been known to date for its Malbecs.
Malbec was once the king of grapes in the Bordeaux region of France, where it is now relegated to an oft over looked blending grape. In Argentina the Malbec that is planted comes from clones much older than those now planted in Bordeaux, and its neighbor to the south Cahors. The resulting wines are dark colored with dark fruit aromas and flavors with light to moderate tannins, and possess decent acidity.
Until recently the most planted grape in Argentina was the red grape Bonarda. Used primarily for bulk wine production this unusual grape can also be found in some rather pleasant examples of fruity young reds. Argentina also boasts an unusual white grape that is rarely found elsewhere, the Torrontes which is tart and perfumey.
Mendoza is the largest and best known of the wine regions in Argentina producing 80% of the nation's wines. Near the city various subregions such as the Maipu, Lujan de Cuyo and the Valle de Uco with the up and coming wine village of Tupungato each lend their own expression to the grape.
San Juan and San Luis are close to Mendoza while to the northwest Salta, Catamarca, Jujuy, La Rioja, and Tucman can be found. Corddoba and Buenos Aires are regions in the central part of the country, and to the south is Rio Negro and Neuquen.